After being denied ticket, seven-time MP clarifies stand; no plans to quit the party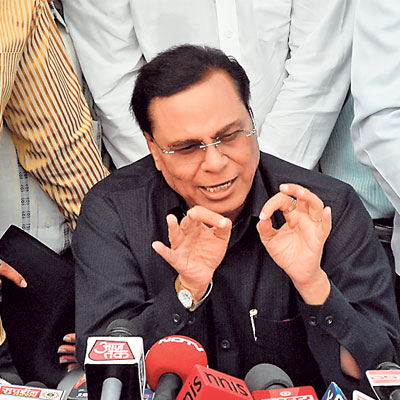 Disgruntled over being denied a Lok Sabha ticket by the Bharatiya Janata Party (BJP), seven-time MP from Ahmedabad East constituency Harin Pathak on Sunday said the party was headed the Congress way, which he would try and stop.
Pathak — who was bypassed on Saturday with the ticket being given to Bollywood actor Paresh Rawal — clarified that he is not leaving the party and will decide his next step after consulting with party workers.
Denial of ticket for the upcoming Lok Sabha election came as a surprise to Pathak, who believes he always worked for the betterment of society and gave his best.
Talking about the Congress way jibe at the saffron party, he said: "Since the past few months — as an ex-Jan Sangh member and a loyal party member — I feel that those who used to talk negative about the BJP and attacked its members for their benefits, are being given respect and position in the party. This is what I want to stop. With such external forces in the party, what is the BJP trying to prove? I feel that even BJP people have lost faith in the party."
On being asked about the decision of giving the ticket to Rawal, Pathak avoided any direct attack. "People want those candidates who are available for them, listen to their problems and work for their constituency," he said.
The street outside Pathak's residence in Maninagar was crowded with party workers showing support for the veteran leader. The 67-year-old also had telephone conversations with chief minister Narendra Modi and party spokesperson IK Jadeja.
However, more than himself, Pathak said his workers were more upset over the development. "I will consult with them before taking any strong step," he said.
Replying to a question about quitting the party and standing as an Independent, Pathak said: "I am the Maa and Mausi (heart and soul) of the party. So, there's no way that I will leave the party. At least, not in the near future." Stating the reason for not getting the ticket, he said: "I don't think it is due to my good relations with senior party leader LK Advani. It is the party's decision as a whole."
Known to be an Advani loyalist, Pathak contested an election for the first time in 1968 from Khadia ward as a Jan Sangh member and has been elected corporator 19 times.