Bihar in Gujarat: Devotees offer prayers to setting sun, recreate festive mood.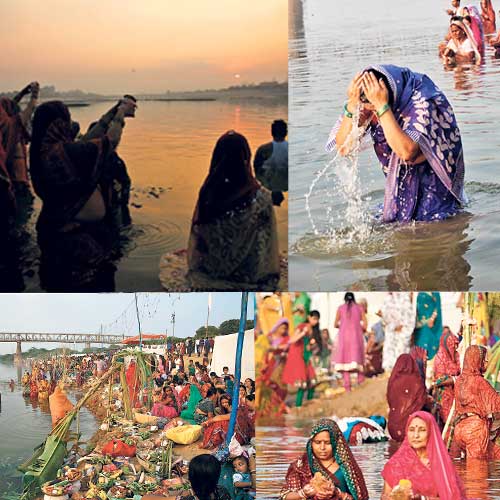 Thousands of Bihari devotees offered arghya (prayers) to the setting sun on Friday evening and stayed back at the riverbank to pray to the rising sun on Saturday morning.
"We had arranged for a troupe from Bihar which entertained the audience with Bhojpuri songs. Arrangements were also made for tents and Bihari cuisine for the 3,000-odd people at the venue," said Pramod Jha, joint secretary of the Maa Janki Seva Samiti.
Apart from the thousands of Bihari devotees observing a fast for Chhath, there were many others, who also contributed to creating a traditional Bihari experience in the city.
This unique entertainment programme began on Friday evening after the devotees had finished offering prayers to the setting sun on the riverbank near Indira Bridge. As part of the Ratri Jaagran (night worship) festivities, a troupe of singers from Bihar entertained devotees with traditional Bhojpuri songs. The local Bihari association had also organised a Bihari feast for those not observing fast.
"The main shankaracharya of Badrika Ashram in the Himalayas, Swami Madhavashramji Maharaj, and many other saints, too, graced the occasion," added Jha.
Prominent Biharis of Ahmedabad, including joint commissioner of police, crime, AK Sharma, deputy inspector-general of police KK Oza, Jagannath temple trustee Mahendra Jha and many others took part in the arghya on Friday evening.
Bihari devotees will again offer arghya around 6.50 am on Saturday morning by standing in the river and offering prayers to the rising sun. That would be followed by a katha on Chhath Maiya.