In its biggest haul this year, AMC destroys 22,700 kg mangoes at Naroda wholesale fruit market.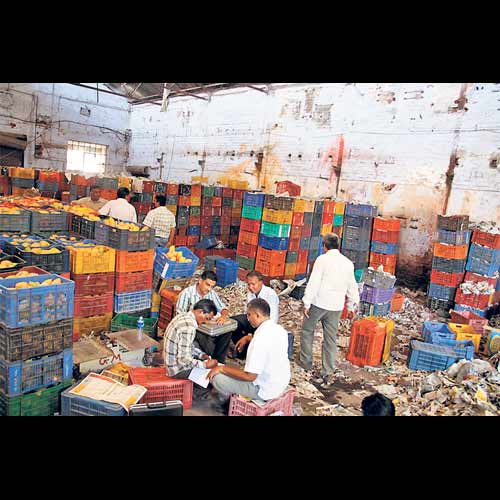 If you have ever wondered if your fruit vendor uses carbide to ripen the mangoes, the answer is yes, there is a very good chance he does. On Friday, the Ahmedabad Municipal Corporation's Heath department confiscated 22,700 kg mangoes of about 30,000 kg that are brought into the city everyday from states like Andhra Pradesh, Karnataka and Maharashtra. The seized mangoes were artificially being ripened with calcium carbide.
In its biggest haul in this season, the AMC swooped down on wholesale traders at Naroda fruit market in north zone and different places in south zone. After carrying out a massive raid they destroyed 22,700 kg mangoes.
The civic body's health department found widespread use of calcium carbide for ripening fruits and seized 7,700 kg carbide which is banned for ripening mangoes due to its health hazards. The Naroda wholesale market supplies mangoes to vendors all over the city.
It also destroyed 500 kgs of the fruit from a vendor in Maninagar and 50 more kgs of it seized from a Ghodasar vendor. The civic body also sealed two godowns where mangoes were being packed in boxes along with carbide packets.
Till now, the department had conducted search operations on various fruit vendors across the city. However, this time it went to the root of the malaise. "We have also checked roadside vendors selling mango juice and destroyed 200 kgs of inedible sweetening agents and synthetic colours from the mango juice vendors in Ghodasar" an AMC health official told dna.
City traders claim farmers themselves place calcium carbide in the crates so that the fruit ripens during the transportation to its destination.
"Two years back, we conducted a similar health raid, where we destroyed around 7,000 kg of mangoes. Many vendors were found placing carbide packets in the mango boxes. We seized these boxes and destroyed them," Dr Suhas Kulkarni, medical officer of health, AMC said.
All the seized mangoes were later taken to be destroyed at Pirana landfill site.
Beware of carbide
Use of carbide for mango ripening is banned.
It is used in gas welding as an intermediate.
It degrades nutrition value of the fruit.
Consumption of fruit ripened using carbide can cause diarrhoea, mouth ulcers, dizziness and even cancer in the long run.