The 3-day 'Rethinking Management Theory and Practice in Present Economic Context' conference sees mgmnt experts from 12 countries.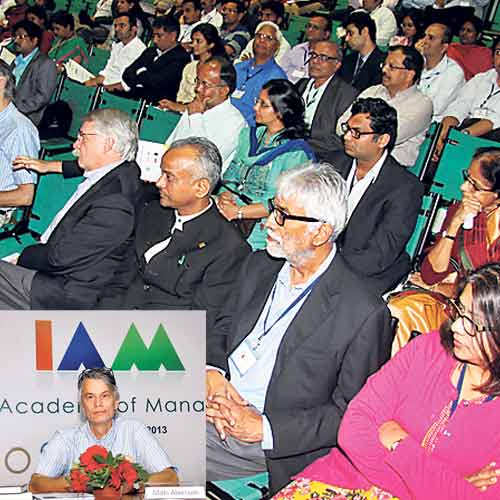 At a time when businesses in India are facing the heat of a volatile global economy, experts from 12 countries have gathered at the Indian Institute of Management, Ahmedabad (IIMA) to discuss management theories for current times. Around 300 participants from different pockets of the world have come to the premier B school to participate in a three-day conference on 'Rethinking Management Theory and Practice in Present Economic Context'.
The conference is jointly organised by the IIMA and Indian Academy of Management (IAM). Prof Mats Alvesson from the University of Lund, Sweden delivered the keynote address on the topic 'The Triumph of Emptiness: Grandiosity and Zero-sum Games in Contemporary Business Organization'.
He spoke about the 'grandiosity' adopted by various companies in 'illusionary arrangement' and 'zero-sum games'. He insisted on the need for increasing competency and professionalism in organisations. While speaking to dna, on the sidelines of the event, he criticised management education in its present form, calling it certificate-oriented and not knowledge-oriented.
"Earlier, management education universities were respected. But now, they have going down in public expectation. Management education has become certificate-oriented and students take it up for making a good impression in curriculum vitae, and not to get genuine knowledge and learn more," he said.
One of the faculty members and organisers of the event, Neharika Vora, said: "This is the right time to organise such an event considering the volatile, uncertain, complacent and ambiguous economic scenario in India." The event was inaugurated by the president of IAM, Anup Verma and Ajay Pandey from IIMA.
In his speech, Verma said that the Indian institutes have not networked enough to provide opportunity to students in research.