Established senior artists opine that making art affordable is a good step to stabilise the art mart.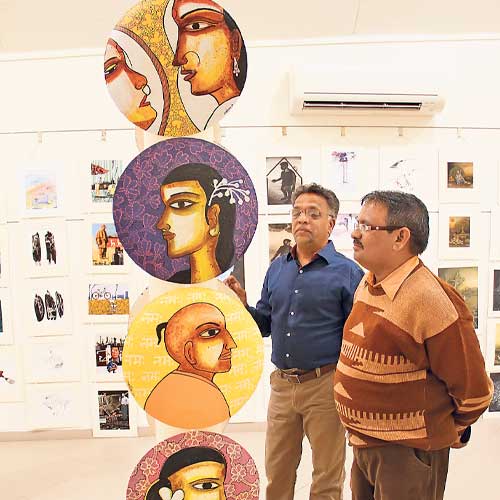 At a time when economic slump seems to be dragging every market down, the art mart too isn't an exception. However, enterprising Gujarati art aficionados have found a way to beat the blues, literally. They are going the West way to take art to the general mart — to let it be appreciated, browsed and collected by all.
Galleries in western countries had introduced this concept of making art affordable into their art market long ago. However, in India it is still catching up and after a successful attempt in Vadodara, Sarjan Art Gallery has brought its 'Affordable Art' concept to Ahmedabad. Founder Hitesh Rana has packaged art portfolios in a manner that an art collector has to purchase at least 2-3 artworks made by young artists and one by a senior artist. The event showcases works of senior artists such as Amit Ambalal, KG Subramanyan, Nabibakhsh Mansoori among a host of many others.
Sharing his views with dna on how such a concept could work for artists per se, senior artist in Ahmedabad, Amit Ambalal said that such events will give a platform to young artists to showcase their work and also help him/her grow in the art field. "For those who can afford to buy paintings of senior artists, such events might not be attractive enough. But then there are those, who love art but cannot afford high-priced artworks. This is a great medium for them. Senior artists must also understand that by creating 10-15 small canvases, it will only help tap new art buyers and attract young audience as well," he explained. The artist went to say how junior artists with relative obscurity will grow after their works are bought by enthusiasts and finding substance in their creativity will help demand grow. It will help the overall art mart, he added.
Artist Ajay Chaudhary said that art is a better option to be bought from the market, when it comes to home decor.
"Going forward, the price of an artwork for say at Rs2,000 or Rs10,000, will only appreciate; which is unlike the case with other items of home decor. In addition, such events are a good opportunity for a lay man to buy art at a cheaper rate than the market price. This is always good as it means that we will then be able to tap new buyers and young artists will gain publicity," he said.
Buying art that comprises of works by senior and junior artists is always a good bet, claimed another senior artist, Nabibakhsh Mansoori. He said that after the sudden rise and fall in of the art market, such events will help stabilise the market and also promote works of young artists. "After all not everyone can afford to shell out lakhs of money to buy art," he said.
Such events provide good future for the art business, opined Vrindavan Solanki, adding that such events help tap quality works from both senior and junior artists, as it has to be made affordable for all. "According to me this is like a movement which must be carried forward for some more time, thereby, promoting works of young artists. Of course, there is an offside too that works of young artists may or may not sell or later on their works will be tagged at the same price, but it's only to be seen in the future," he said.