Multiple factors force farmers in tribal areas of South Gujarat to sell their produce for as low as 50 paise per kilo.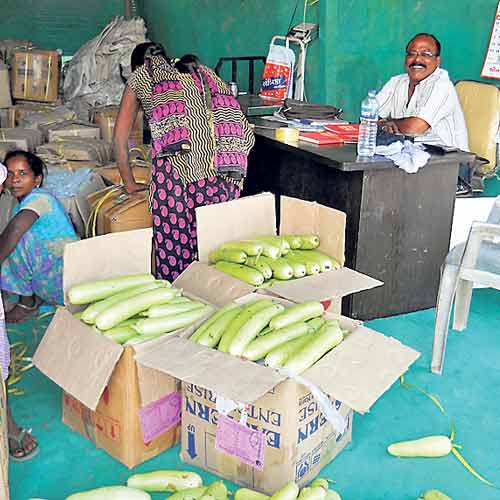 The soaring prices of vegetables may be worrying people all over. However, the tribal-dominated Dharampur taluka of Valsad district is a study in contrast. Here, one can get 20 kg (a sack) of bottle gourd for as low as Rs10!
Factors like excessive production, absence of a proper market and the syndicate of local traders who purchase the farmers' produce are being blamed for the situation. While onion and tomatoes are selling at close to Rs35-45 per kg (in the wholesale markets), the price of bottle gourd has been going down constantly. On Tuesday, it was valued at 50 paise per kg. This has left the farmers growing bottle gourd in a disadvantageous situation.
Majority of villages in Dharampur taluka are engaged in bottle gourd farming. With no other option available, the farmers are forced to sell their produce at the available price. A few routed their produce to Surat and Ahmedabad, but even here, the maximum price offered to them is Rs60 per sack. Meanwhile, authorities of the local Agriculture Produce and Marketing Committee (APMC) have expressed helplessness in dealing with the situation.
"Traders claim that the current price of one bottle gourd is Rs5 in retail market and so they can't afford to pay famers a higher price. Citing over-production and low demand, traders began lowering the price and today (Tuesday) it has gone unbelievably low," said Mahesh Gavli, farmer from Usghta village in Dharampur taluka. Gavli's field yielded 60 tonne of bottle gourd. His biggest concern is whether he will be able to recover his costs.
Already, many farmers in the taluka have incurred huge debts. According to figures from APMC in Dharampur, 60-70 tonne of bottle gourd arrive in the market daily.
As there is no proper market in Dharampur or Valsad district, majority sales depends on markets in Surat, Vadodara, Ahmedabad and Mumbai. Since the supply has been constant despite the low demand, prices in these markets too have gone down.
"As the entire market depends on demand and supply, there is very little that we can do. At times, farmers get unexpectedly high prices for their produce, while sometimes the situation reverses.
Like other crops, the state government should declare minimum support price for bottle gourd too," said Ravji Pawar, member of APMC (Dharampur).