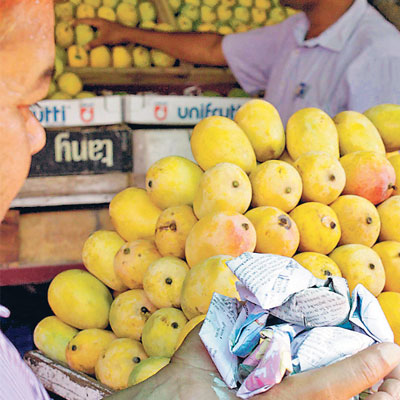 The civic body destroyed 4,662 kg of mangoes from 100 shops in the city on Monday. For, those mangoes had been ripened by carbide, a chemical that can cause inordinate harm to one's health.
Carbide's ill-effect on health is known. But, an alarm is being raised about the excessive use of this chemical to ripen the king of fruits. So, health teams of the Ahmedabad Municipal Corporation (AMC) raided 100 shops across the city during the day, said officials.
Officials said carbide can lead to vomiting and diarrhoea and also result in other life-threatening diseases like cancer if consumed for longer periods of time.
Acting on a tip-off, the officials raided Jalaram Mango shop at Maninagar and found that the shop owner, Gopes Sayani, had used a huge amount of carbide to ripen the mangoes. "Following this, his shop was sealed and 1400 kilos of mangoes from Maninagar alone were destroyed at the Pirana sewage farm," said a civic official.
Health officer Bhavin Solanki said nearly 12 teams of health officials randomly raided 100 shops and storage spaces in areas like Kalupur, Naroda, Maninagar, etc to mention a few. "Teams in all six zones raided nearly 100 shops and seized 4662 kg of artificially ripened mangoes. We have also seized 80 kg of carbide used to ripen mangoes from these shops and also imposed a penalty of Rs1.20 lakh from them," said Bhavin Solanki, medical officer of health at AMC.
He said vendors take risk despite the civic body having explained to fruit vendors to not use carbide to ripen mango. "Artificial ripening of mangoes is not permissible and so we register complaints against them. We have seized the highest number of carbide-ripened mangoes from Kalupur and Naroda fruit markets," said Solanki.
Officials said the raids will continue for some more time.