While CBSE schools are working towards the devpt of libraries, GSHSEB schools have failed to go beyond conventional set-up.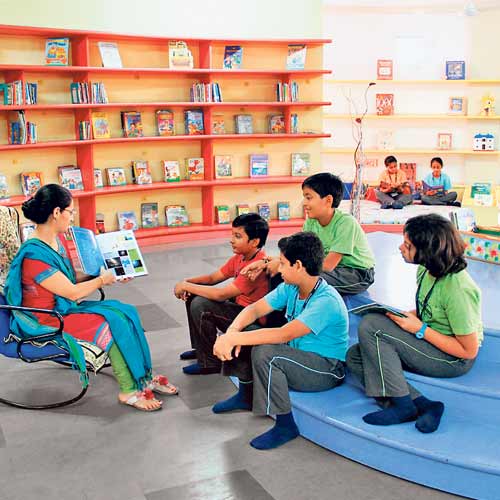 Harold Howe, former commissioner of education in the United States, had said: "What a school thinks about its library is a measure of what it feels about education. Interpretation suggests, richer the school's library, equally rich will be school's commitment to brilliance of education."
Going by the interpretation of these words, it appears that schools following Gujarat Secondary and Higher Secondary Education Board (GSHSEB) need to take some inspiration from their counterparts following the curriculum of Central Board of Secondary Education (CBSE).
International School Library Day is celebrated on the fourth Monday of October every year (Oct 28).
On this day dna looks at some of the school libraries in the city to find out what transformation they have undergone over the years.
The disparity in infrastructure that emerged was baffling. While CBSE schools ensure their students have enough facilities and motivation to read extra books, state board schools seem lagging on this front.
Realising the need to inculcate reading habit among students, Anand Niketan School in Satellite has chosen to go beyond the conventional library ambience. They have introduced a funky and informal set up with green and blue colours. There is an amphitheatre-type wooden shelf, small beddings for kids to sit comfortably on and read their favourite books and also a reclining chair for teachers.
"We also have a system where a student can take a book home to read during the weekend.
Once they do that, we evaluate their understanding of that particular book. Books play an important role in grooming student's knowledge skills. Therefore, students are rewarded when they read more books," said Nashy Chauhan, director of Anand Niketan group of school. The school has a total of 6,000 books in the library for both primary and senior students.
Schools affiliated to Central Board of Secondary Education (CBSE) have prescribed books, which students have to read in a year. This move was introduced mainly to ensure that students read those books.
Sattva Vikas School in Thaltej has developed a system, where students have to enact a character from the book that they have read and explain it to others.
"This is for senior students. For juniors, we have a question paper type format taken from the books that they read. We have also developed activities like selecting books using chits, choosing different topics and authors to encourage students to read a variety of texts," said Jayashree Joshi, principal.
However, the situation is not the same in case of Gujarat Secondary and Higher Secondary Education Board (GSHSEB) schools.
They have a conventional set-up, with bookshelves and tables and chairs for children to sit and read. But, they seem to be lagging as far as additional effort to increase the reading abilities among students is concerned.
While the emphasis is on instilling reading habit among children, it is also important to know if it holds the interest of senior students. But teachers, who closely observe the students, respond in negative.

What students like to read
According to the teachers, primary section students prefer books on super heroes. This does not just include Spiderman and Superman; it could even be about a mythological character. Other preferences are comic books. Secondary and higher secondary students choose to read bestsellers, mostly fiction, irrespective of their medium.