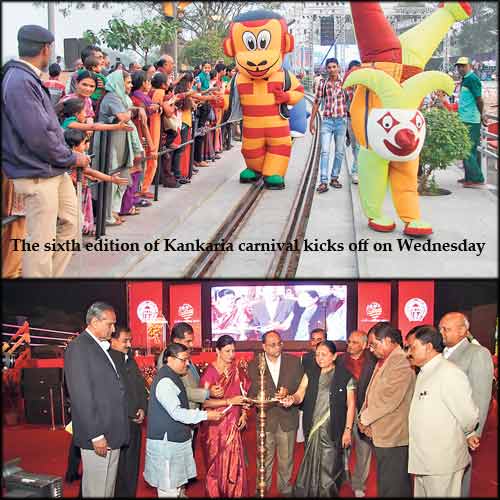 It's that time of the year, when festivities of all kinds make Amdavadis' spirit soar high. Capping the Yuletide spirit is the annual mega event, the Kankaria Carnival, which will keep thousands of visitors in a festival mood. The week-long event kick-started on Wednesday.
Live performances and laser show entertained the visitors on the first day of the week-long carnival. The professional dance troupe performed a dance cum skit on the theme 'Ame Utsav Premi Amdavadi'. Interestingly, the cold weather did not deter citizens, rather it added to the festive mood of the Amdavadis. The lakefront has been decked up and its steps have been made colourful. Children have decorated them with beautiful rangolis.
Speaking to dna, one of the visitors, Tejal Shah said: "Every year, we make it a point to visit Kankaria during the carnival. This year, we have relatives from Mumbai and will bring them to the carnival. They have heard a lot about the carnival and want to get a feel of the place."
Earlier, state revenue minister Anandiben Patel inaugurated the sixth edition of the carnival.
Impressed with the cleanliness at the Kankaria lakefront, Patel said: "We all remember how Kankaria looked like before it was renovated. Now it looks beautiful and I appreciate the efforts of the people in keeping it clean." She also said that horse ride has been replaced with automated rides.
Talking on the budget allocation, she said the state government has allotted Rs15,000 crore for 2013-14, out of which Rs520 crore has been sanctioned to Ahmedabad city.
Schedule for Thursday
Rock Band- 5.30 pm to 6.30 pm – At Stage 1, Kankaria lakefront
Gujarati-Hindi playback singing- 7 pm to 8.30 pm – At stage 1, Kankaria lakefront
Magic show- 11.30 to 1 pm – At stage 2, Kankaria lakefront
Skillorima (linear garden) – 10 am- Kankaria lakefront