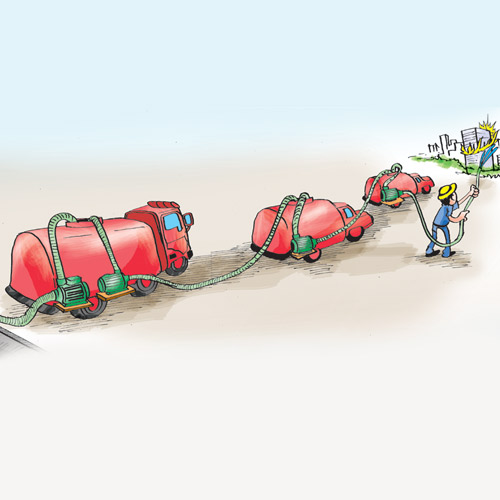 In order to tackle massive fire incidents, the Ahmedabad Fire and Emergency Services (AFES) is planning to use water relay. It can fetch water from sources like irrigation canals up to a distance of seven km. The department will spend around Rs8.4 crore to purchase seven water bowsers equipped with pumps which can supply 8,000 litres of water per minute.
Though AFES possess state-of-the-art equipment to douse big fires but sometimes lack of water sources hampers in controlling fire effectively. For example, during the fire at Hazira near Surat on January 5, 2013, the fire fighters could not fight fire continuously as water tankers used to get empty after every two minutes, said MF Dastoor, chief fire officer of AFES.
He said that AFES has sprinklers that can sprinkle 10,000 litres of water per minute to control fire.
However, in big fire incidents it requires a huge quantity of water to be thrown continuously to control the fire effectively and within minimum time, he said.
That is why AFES has ordered seven water bowsers with a capacity of 20,000 litres. The water bowsers will be equipped with water pumps with a pumping capacity of 8,000 litres per minute.
"We will interlink the water bowsers with hose pipe so that even if the water source is not closer, there is no shortage of water," the chief fire officer said.
Dastoor said that water relay was used on a limited scale in the Lati Bazaar fire incident in Ahmedabad but the water capacity remained very low at around 400 litres per minute which was not sufficient.
As compared to the current water bowsers costing around Rs65 lakh, the new bigger size bowsers will cost around Rs1.20 crore per unit. However, with double the carrying and pumping capacity, it will serve in tackling bigger fire incidents with only two fire fighters and one driver.
The vehicles are likely to be ready within a month.