The party plans to send a report in the form of documentary to Varanasi residents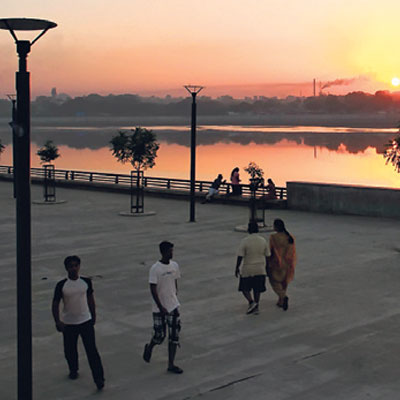 Even as chief minister Narendra Modi promises residents of Varanasi a Ganga as clean as the Sabarmati in Gujarat, the Aam Aadmi Party (AAP) is planning to get a reality check on the clean status of the river in Gujarat.
The party is planning to take a Sabarmati yatra from Vasna barrage onwards along the banks of the river to check for the chief minister's claim that the Sabarmati is a clean river. "In a day or two we will be taking out the yatra from the Vasna barrage onwards and the yatra will move along the banks of the river. We will be taking water samples from different places through which the Sabarmati passes and would send them to laboratories for testing," said Sukhdev Patel, Gujarat convener of AAP.
He added that during the yatra they would also talk to the people who live on the banks of the river. "We would also look at the garbage being dumped along the river. How the river has benefited those living along its banks? How much industrial effluent and city waste is being dumped there?" said Patel.
He said the party workers will make video recordings of these yatras and will turn it into a short-film which will then be shown to the residents of Varanasi before the holy city goes to polls.
"The film will also have lab reports of the water quality of the Sabarmati. It is time someone tells the residents of Varanasi how clean the Sabarmati is," said Patel.
Meanwhile, several AAP workers have left for Varanasi to help campaign for the AAP. "Most of the workers have made their own arrangements to reach Varanasi. They will be helping in the campaign work of Arvind Kejriwal and other AAP leaders," said Patel.
Jagdish Patel, an AAP worker who will be leaving for Varanasi on Saturday morning, said that 10 people will be going along with him to the holy city. "All the people have voluntarily decided to go to Varanasi at their own expense. What we are doing is for the country and we will be meeting AAP workers in Varanasi. Once there, we will work in the assembly seats that they assign us," said Patel.