Abdasa candidate Rohit Gore pays his Rs10,000 security deposit in 20,000 coins of 50 paise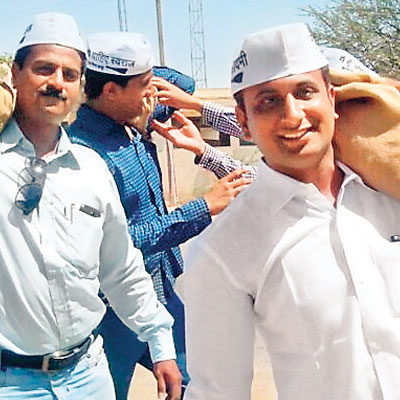 As far as theatrics goes, it turned out to be worth every penny. An Aam Aadmi Party (AAP) candidate became the talk of the town thanks to the humble 50 paise coin. The party's candidate for the Abdasa constituency, Rohit Gore, decided to pay his security deposit of Rs10,000 in 50-paise denominations while filing nomination. Needless to say the tactic worked and it did not cost Gore a penny to get himself and his party the much-needed publicity.
Gore, along with his friends, carried four sacks of 50 paise coins to file his nomination for the by-election to the Abdasa assembly constituency which would be held on April 30.
"In all, there were 20,000 coins. My friends helped me carry it. We had made packets of Rs100 each and each sack had 50 paise coins worth Rs2,500 in it," he said.
But why did he choose this unusual way to pay the deposit? Gore said he had thought of it even before his candidature was announced. "I had planned that if I get nominated, this is how I would pay the deposit."
To collect the 20,000 coins, the AAP candidate and his party workers went around several temples and mosques in the constituency exchanging Rs100 notes for 50 paise coins of the same worth.
"It took us three hours to count the coins before packing them. I think it took the election officials around two-and-a-half hours to count it. They were faster than us," laughed Gore. He, however, clarified that he had not paid the deposit in coins with any malicious intent. "I was not trying to harass the officials. This was my way of making a statement. Initially, they were surprised but accepted the money in 50 paise coins because it is still a valid currency unlike the 10 paise or 5 paise," said Gore.
When asked what statement he was trying to make, he said the 50 paise, despite being a valid currency, was not being accepted.
"So, in case something costs Rs1.5, you end up paying Rs 2, which is 50 paise more than its actual worth. I think this is one form of corruption, too, however unintentional because we refuse to accept or give 50 paise, which is a valid currency," said Gore.
Adding that it was nothing unusual, he said: "We are a party that accepts Re1 as donation. This shows that we give equal value to everything, however small it may be."