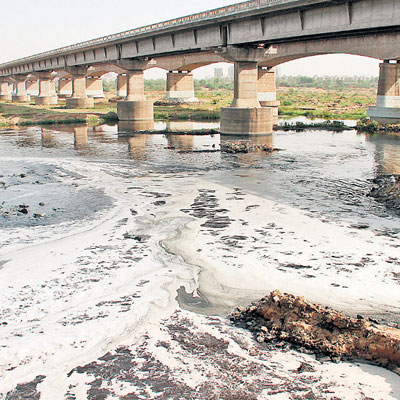 The Aam Aadmi Party (AAP) on Friday held a press conference to announce the lab results of water samples it had taken from the Sabarmati River. The samples were collected during the party's Sabarmati Yatra, which was taken out to verify chief minister Narendra Modi's claim that Sabarmati was a clean river.
"Modi has promised residents of Varanasi that he will make the Ganga as clean as the Sabarmati. The sad part is that he is unaware of Sabarmati's condition. It is perhaps more polluted than Ganga River," said Sukhdev Patel, convener of Gujarat AAP.
Patel also showed samples of drinking water collected from Saroda village that is on the banks of the river. "The water had a TDS of 13,400 against the permissible limit of 300 for drinking use and 2,000 for farming purpose," said Patel. Subodh Patel, who tested the water, said that such high TDS levels will not only affect peoples health, but also the fertility of the soil. Also, the level of chemicals in the water samples collected from Gyaspur and other such areas was high as industrial effluents were being dumped directly in the river, added Patel.
"The industries are supposed to treat the water at Common Effluent Treatment Plant and on paper they are being treated. However, the water samples we collected showed that the industries were directly dumping effluents in the river and we have lab tests to prove it," said Patel.
The AAP plans to send these details to its team in Varanasi to inform the residents there the truth about Sabarmati's clean claim.
Verma writes to addl CEO UP on Modi's defective affidavit
Nishant Verma, a member of AAP, has now written to Ramakant Pandey, Additional CEO Uttar Pradesh, urging him to take action against BJP's prime-ministerial candidate Narendra Modi for filing defective affidavits. Verma has also forwarded the letter that the CEO Gujarat wrote to the returning officer Vadodara asking them to take action against Modi for the defective affidavit. This refers to Modi not revealing his marital status in the affidavits that he had filed during the assembly elections.