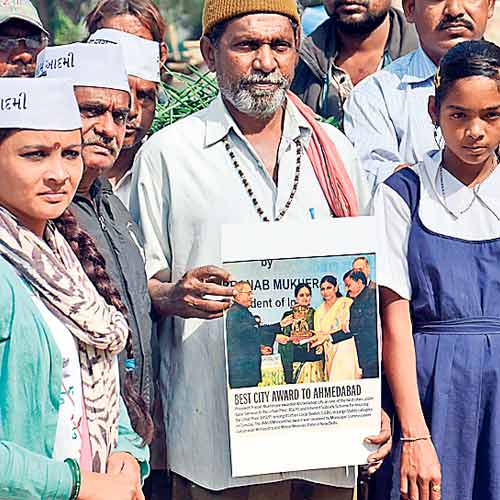 The Aam Aadmi Party (AAP) in the city has taken up the cause of 92 families residing behind Seema hall in the city after Ahmedabad Municipal Corporation (AMC) demolished their hutments.
"The AMC is arguing that they have encroached government land. These people have been living here for 20 years when no development had happened here. Now, the civic body wants to remove them. They are not insisting on staying here. It is just that the government has to provide them with an alternate accommodation," said Sukhdev Patel of AAP.
Pushottam Vaghela of Manav Garima said that the homes were demolished in the rains leaving the poor at the mercy of the elements. "We had started a school for the children, which too was demolished," said Vaghela. Patel added that the chief minister had promised housing for 50 lakh poor people in the state. "These are the poorest of the poor. So why is nothing being done for them? What happened to the chief minister's tall claims?" asked Patel.
Patel also criticised the UPA government for awarding Ahmedabad as the best city for civic amenities. "These people have no access to drinking water. They have to walk several kilometres to attend nature's call. This is the situation in almost 250 such slums and the city mayor has no qualms accepting the Best City Award for Ahmedabad," said Patel. The fact that the UPA too conferred such an award on the city showed how much it cared for the poor, added Patel.
It should be noted that the civic body had not issued voter ID cards to the poor as they were living on encroached land. To this, Patel said: "The election commission had stated that everybody, who is a citizen of the country and can vote, has a right to a voter ID cards. Where they live is immaterial."