Since its launch, 'Zindagi' helpline has received 179 calls from those contemplating suicide.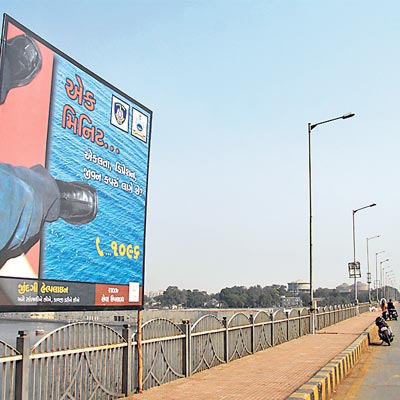 l A 15-year-old girl studying in class X gets romantically involved with an MCom student. Her advocate father finds out about this and reprimands her, saying she has brought shame to their family.
Disturbed, she leaves home in Navrangpura and lands up at Subhash bridge at 5.30 pm on January 20. She attempts to jump off the bridge when a good Samaritan, Chetan, stops her in time, while woman constable Pratima Patil calls 1096 and requests help. Patil, a counselor at the Zindagi helpline, guides the girl as well as her parents regarding the incident. They return home a happy family.
l A middle-aged man from Kalupur is in dire straits. His photocopier shop is barely able to fetch him and his wife and young daughter one proper meal a day. His old father is well off, but refuses to support through the tough times. However, he decides to call 1096 before taking the extreme step. Counselors advise him on the phone and urge him to continue for the sake of his family. He decides that starting another business or even taking up a job is better than ending his life.
l A terminally ill woman in Maninagar is tired of watching her family in despair, trying to fend for her treatment. This even leads to a major fight among her family. Seeking to free her loved ones from trouble, she thinks of ending it all. But then she comes to know about 1096 and calls. A counselor rushes to her residence and resolves issues.
These are the cases where counselors at the Zindagi 1096 helpline extended a lifeline to callers from the city. From its launch on January 10 till Saturday evening, as many as 179 callers have shared their frustrations, issues and suicidal tendencies with the helpline counselors. Of these, as many as 30% were in need of immediate attention, officials said.
Zindagi helpline, an initiative under the Suraksha Setu campaign, was started with the aim of reducing the number of suicides in the city, which stood at 711 in 2013. "Of the 179 calls received so far, 30% were from callers who needed prompt intervention, failing which there was a possibility of they taking the extreme step," said Salim Mansuri, co-director of suicide prevention NGO Saath.
The NGO was roped in to help with the counseling of callers.
"Another 40% calls came from people who thought of suicide to get over a small incident or fight and needed to be explained that they were giving undue attention to a petty issue. About 20% callers just needed basic counseling over the phone. The remaining 10% were looking for information on the work of the helpline," he added.
Assistant commissioner of police (ACP) 'F' division, Manjita Vanzara, said that more male callers sought help than female. "Males in the age group of 25-45 years have made the maximum calls. The most prominent issues due to which they wanted to take the extreme step include financial crisis, failed romance/marriage and terminal illness," she said.
While the response has been good, police are looking to take the helpline statewide. "There are similar helplines in Surat and Gandhinagar. Here, we have already started getting calls from rural parts of the district, which is not in our jurisdiction. Hence, authorities are considering maximum coverage by making this a pan-Gujarat helpline in the near future," Vanzara said, adding that they would shortly give out information material about Zindagi in all electricity and gas bills.