Lesser-known parties collectively attracted around 5.33% of the total votes in the 2009 LS election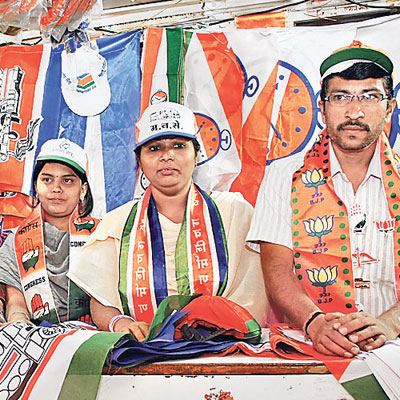 While the race for seats to the Lok Sabha from Gujarat has been a bipartisan affair in recent years, the Bharatiya Janta Party (BJP) and Indian National Congress (INC) are not the only parties contesting the upcoming polls. As many as 125 candidates are from 30 other parties, as per data availed from the Election Commission of India.
These parties include the Mayawati-led Bahujan Samaj Party (BSP), Samajwadi Party (SP), Janata Dal (United), Nationalist Congress Party (NCP), Communist Party of India (Marxist) among others are contesting from various seats. A new entrant here, as in the rest of the country, is Arvind Kejriwal-led Aam Aadmi Party (AAP).
These parties have collectively fielded as many as 125 of the total 334 candidates. Amongst them, BSP as well as AAP have 24 candidates, while Bahujan Mukti Party (BMP) has 13. Mulayam Singh Yadav-led SP has fielded 10 candidates, and JD(U) has 11 candidates.
Meanwhile, Congress ally NCP's sole candidate Kandhal Jadeja will be contesting from the Porbandar seat. Other parties with solitary candidates include Voters Party, which has fielded Sonal Kellog from the Navsari seat, where Bharatiya Bahujan Congress's only candidate Aslam Mistry is also contesting. Similarly, Ravliben Chaudhary, Communist Party of India's sole candidate, will contest from Bardoli.
The 39 other candidates represent parties including Communist Party of India (Marxist), Bharatiya National Janta Dal, Republican Party of India (Ektawadi), Adivasi Sena Party among others.
Past Performances
These lesser-known parties collectively attracted around 5.33% of the total votes polled in the 2009 LS elections in the state. However, none of the candidates from these parties had managed to secure any seats at the time. Of these, BSP had polled the highest with over 2.82 lakh votes, or 1.6% of the total votes.
The Mahagujarat Janta Party (MJP), which had attracted 1.40% vote share or 2.45 lakh votes in 2009 polls, was the second highest vote-getter amongst these parties then. However, in the run the up to 2012 Gujarat legislative assembly elections, MJP had merged with the Keshubhai Patel-led Gujarat Parivartan Party (GPP) in August 2012. GPP in turn recently announced its merger into the BJP fold last month.