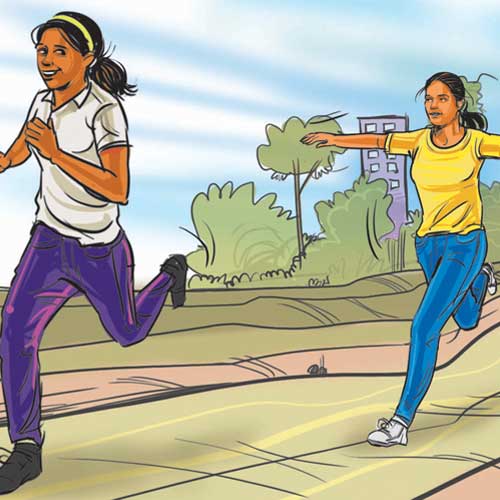 Want to stay fit? The Mumbai university thinks you ought to start playing langdi.
In an attempt to revive traditional sports, the varsity has also decided to organise an inter-collegiate langdi competition for its girl students in December.
Langdi, a game where you try to catch a bunch of players while hopping on one leg, used to be one of the favorite pastimes of kids during vacations.
Within 15 days, Mumbai university will send a directive to all colleges affiliated with it and thus become the first varsity in the country to take a serious interest in the reviving of traditional sports to help girl students maintain fitness.
According to a varsity official, around five lakh girls study in the colleges affiliated with Mumbai university. There are 700 such colleges across six districts — Mumbai, Mumbai suburban, Thane, Raigad, Ratnagiri and Sindhudurg.
"Langdi, which is hardly played in the city anymore, used to be a popular game 10 to 15 years ago. In an attempt to improve the physical fitness of our girl students, we decided to introduce this traditional sport in our colleges," said Rajan Welukar, vice chancellor, University of Mumbai.
The students will be able to train at the university's sports complex at the Kalina campus or on its ground in Marine Lines. The varsity will pick two teams from each district to compete in the inter-collegiate competition, which will be held in Mumbai.
Colleges welcomed the move. Suhas Pednekar, principal, Ruia College in Matunga, said, "Any initiative to encourage participation in sports is good. Also, reviving old sports is not a bad idea. We will definitely encourage girl students to be a part of it."
If this initiative is a success, the university will introduce another traditional sport, fugdi, in its colleges.
Uday Deshpande, chief trainer of Shree Samarth Vyayam Mandir, a physical education institution in Shivaji Park, said, "It's a welcome move. All our traditional sports have a special feature — they need minimum space and minimum infrastructure."