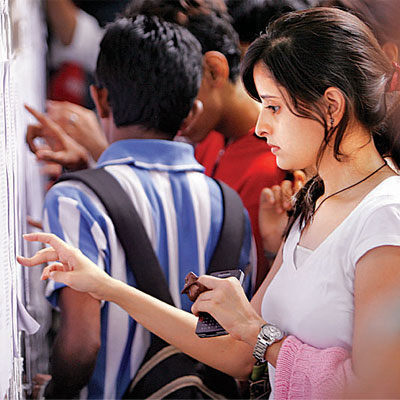 With the board exams approaching, the number of errors on part of the state board is increasing.
After delaying the hall tickets of HSC candidates, the Maharashtra State Board of Secondary and Higher Secondary Education (MSBSHSE) has now goofed up the lists of candidates going to appear for the SSC exams.
While names of several candidates are missing from the lists of several schools, records of many others are mismatched. Board officials have pressed the panic button and are now burning the midnight oil to rectify the issues.
The number of schools affected in Maharashtra was unclear, but an official confirmed that lists of over 125 schools in Mumbai region are compromised. Mumbai region comprises Mumbai, Thane and Raigad.
Chairman of the Mumbai division of the board Lakshmikant Pande said, "We hope to rectify the problem by February 10 and hall tickets will be sent much before the exams."
The practical exams for Std X are slated from February 17 and the gaffe is expected to delay the hall tickets for hundreds of schools across Maharashtra.
"Officials from those schools who have been affected by the goof-ups have been called at the board office on Friday with the records to address the issue," said a principal of one such school.
"All these schools have not even received their pre-lists from the board," said a top official at the Pune headquarters of MSBSHSE who blamed an outsourcing agency for the poor show.
A pre-list is record of all candidates of a school finalised by the board and sent back to the school a month prior to the exam for corrections, if any. The board prints the hall tickets only after receiving the amended pre-lists.
All board officials are tight-lipped about the name of the outsourcing agency, which is also to be blamed for the delay in HSC hall tickets.
Ahead of exams
Names of several candidates are missing from the lists of several schools and records of many others are mismatched
The number of schools affected in Maharashtra was unclear, but an official confirmed that lists of over 125 schools in Mumbai region are compromised. Mumbai region comprises Mumbai, Thane and Raigad